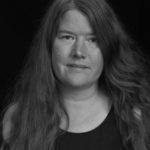 SUSAN FLORRIES
Storyteller, filmmaker and Transformation Consultant.
---
Born in 1977 in Stockholm, Sweden, she lived in Spain in 1997 and 1999 – 2001, and moved to Vienna, Austria, in 2004. In 2017 she started living part time in Stockholm, where she now resides. During 2018 she took the time to be offline for a year.
At the core of her work stands a lifelong wish to inspire kindness, compassion, the liberation of the mind, presence and magical moments, as well as to contribute to a deeper understanding of human behavior and metaphysical experience.
Susan has written, directed, appeared/worked in, and/or produced more than 50 films. She collaborates with various filmmakers, artists and intentional communities, locally and globally. She learned project management for non-hierarchical organizations, studied sociology, history of science and ideas, film as well as theater science and attended Stockholm Film School. She made music videos, short films, image films, documentations, making of's and various films about art from all eras for a famous auction house in Vienna. She has also widened her field with studies in the area of journalism, web editing and digital creation as well as graphic communication. She is currently in a part time internship at Hjärnkoll Stockholm, working with communication and marketing.
In the line of her work she interviewed several distinguished scientists, politicians, diplomats, famous actors, as well as activists in intentional communities and movements. She contributed to the latter as a communicator, project manager, concept developer, space holder, healing circle leader, conflict solver and moderator. She was also a part of the vibrant Occupy and Real Democracy Now movement in Vienna from 2008 – 2010, mainly as an organizer, moderator and media contributor.
During a lifelong spiritual journey, she has had the fortune of being guided by several elders. Furthermore she attended personal therapy, a large number of dance workshops as well as seminars and journeys within the field of transcendental and self development. In 2016 – 17 she held several, very appreciated journeys/workshops as a transformational guide in Vienna and at the Being Gathering in Portugal. Since 2019 she gives private and semi-public sessions at small festivals.
2015 – 2017 she co-organized and participated in various performances, mainly with expressive dance and storytelling. She has a talent for improvising songs, guided meditations and her story A Fairy Tale.
After a burnout in 2015, Susan had two psychoses in late 2016 and late 2017. She experienced these as deep, spiritual and life-changing journeys, but also as quite exhausting. One year of rest offline in 2018 gave a relief. Now these life changing events are a source of constant inspiration, a deeper understanding of the self and a great surge in creativity. Read more about it here. Since January 2022 Susan is an ambassador for Hjärnkoll Stockholm, giving lectures on the topic.
Telling A Fairy Tale by a fire, September 2015, still from video material, DOP Sebastian Arlamovsky. With WolfGong and Grandfather Gong at Druidenhain, 1st of May 2016. Klangfarbentanz in Nürnberg, April 2016, photo and body painting by the goddess painter Peter Engelhardt.